MASK THAT SHOWS YOUR SMILE TO THE WORLD
We are all still getting to grips with the 'new normal' – it's just the world we live in right now. But, when you wear a face mask, you hide everything your face has to offer. 
Show your emotions without covering your nose and mouth.
FEATURES OF THE MASK
The world has totally changed in the last few months, this is the world we live in right now. We barely see the faces of anyone we meet, all our emotions are hidden behind the mask we all have to wear to protect ourselves.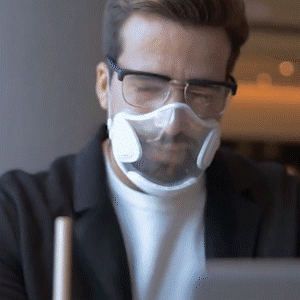 We have created the mask to fit different face shapes comfortably, whether you're elderly, man, woman big or small this will fit well on your face. 
It's made for every situation whether you're commuting to and from work, working in a bar, driving an Uber, riding your bike, or out on a date with a special someone. 
DOESN'T MUFFLE YOUR VOICE
With extra space between your nose and mouth, The shield helps everyone understand what you're saying, as well as how you feel.
Material cover-ups don't do this – in fact, they do the opposite, sitting directly on your nose and mouth, muffling your speech, and making it difficult to communicate. It's time to be heard again.
SO CLEAR YOU UNLOCK YOUR PHONE WITH IT
When you want to quickly use your digital device in public last thing you want to do is remove your mask, our shield is so clear it works with face ID.
THE COMFORTABLE AND ERGONOMIC DESIGN
The adjustable strong head strap doesn't feel like your head is being squeezed in a vice or your hair is being waxed off. We are changing the game to bring you a shield that actually fits comfortably.
It makes it easy for you to breathe, so you can wear it all day long without ever wanting to take it off. 
ANTI-FOG SURFACE
Most importantly, the anti-fog coating will keep the mask clear so people can see your expressions and it won't feel like you're getting steamy.
The shield lets out 100% of your smile while blocking the stuff coming in! 
Our shield is reusable, with easy to clean replaceable filters. It's the only shield you'll ever need.
COMPARE WITH OTHER MASKS
CHOOSE YOUR COLORS
There's no reason why your face shield can't be part of your style, and with a range of pastel-colored masks – it definitely can be. Don't just show your emotion, show some of your personality as well.
Don't see a color that you like? Don't worry as the project raises more money we will open more color and style choices.